Determine which carriers have an appetite for your risk before starting an application.
Appetite Checker allows you to search NAICS codes by state to see what's in appetite for carriers you're appointed with, and the ones you're not. If you like what you see, select your carriers and begin an application.
First time using Appetite Checker? Follow the instructions below to get started:
To access Appetite Checker, hover over the plus sign (+) as if you were going to create a new application. Click "Check Appetite (BOP)"

As you enter the type of business you would like to insure, a drop-down will appear with suggestions. You can search using keywords or the NAICS code. Select the code that best suits the business and click the orange "Next" button in the bottom right.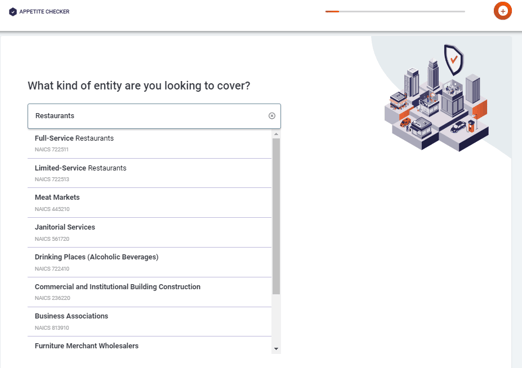 Select the state in which the business is located. Click "Next" to continue.

Voilà! Now you have a list of appetites by carrier. If a carrier writes multiple class codes that match your search, Appetite Checker will include them as well.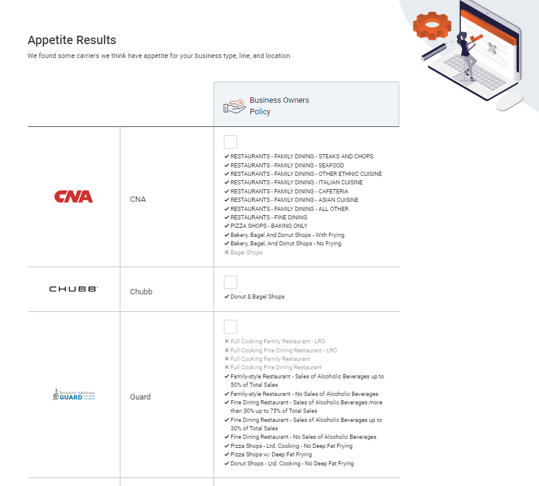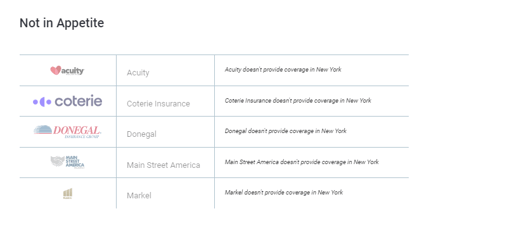 Appetite Checker will also show you appetite for carriers you aren't currently appointed with, because knowledge is power!


If you would like to begin an application, click the checkbox for each of the carriers you want to quote. After clicking the "Start Application" button at the bottom, you will be taken to the first page of a new application. When you get to the carrier selection page, the carriers you checked will already be selected.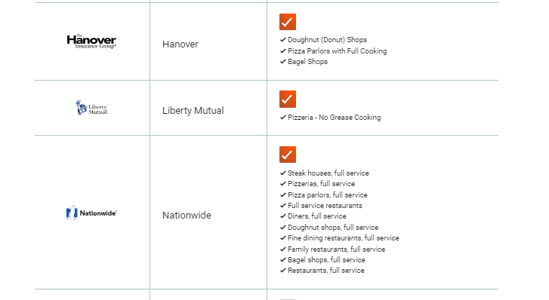 Note: Appetite Checker is currently only available for BOP, but Worker's Comp is coming soon!