There are a few different results you might see after submitting a quote.
"View Quote" - Your quote is ready to be bound. Click "View Quote" to bridge over to the carrier portal where you can finalize your quote.
"Continue To Carrier Portal" - In order to finalize the record, you must answer additional questions in the carrier portal. You will have to click the "Continue to Carrier Portal" button to bridge over to the carrier portal to complete the question set.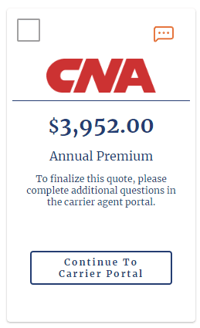 "Blocked" - Another agent has already quoted this risk with that given carrier.
"Declined" - Your risk is out of appetite for that given carrier. You can click on the conversation box on the top right of the quote to see Declinations. Semsee will always tell you any declinations provided by the carrier.
"Request to Finish" - Clicking "Request to Finish" will send an email notification to your Parent agency contact and they will reach out to discuss binding.
"Processing Quote"- You will receive an email from quotes@semsee.com when your quote is ready. These are sent from a real person and require actionable information. If you are able, make sure you mark this email as safe so that it doesn't get filtered to spam.
"Submit to Underwriting"- When quoting through MAP carriers, you will receive the option to "Submit to Underwriting" for in-appetite risks. Within a few hours after submission, an underwriter will reach out to let you know if there is any additional information required to bind the quote.